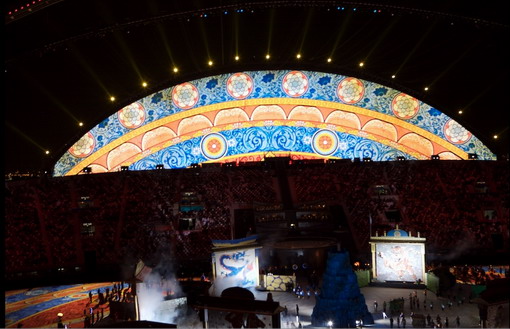 Element Labs, Inc., an industry leader in LED video technology, was contracted by Doha Asian Games Organising Committee (DAGOC) to created the largest custom LED screen ever used for a live event. Especially designed for the opening and closing ceremonies of the 15th Asian Games in Doha, Qatar, the exterior Versa® RAY screen made its debut during the Opening Ceremony on December 1, 2006 at Khalifa Stadium.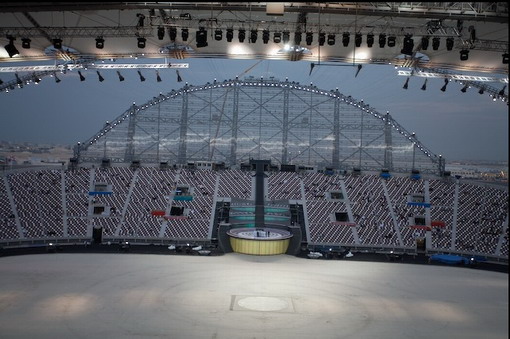 DAGOC main contractor David Atkins Enterprises was the producer of both the Opening and Closing Ceremonies. DAGOC & DAE challenged Element Labs to create a massive LED screen for the ceremonies having the highest possible resolution and video performance. The entire screen is 165 meters wide along the curve, reaching 39 meters at its highest point. The screen is comprised of 20,000 individual Versa RAYs, which laid end to end would span 58 kilometers (over 36 miles). 762,000 individual LEDs were used, with a pixel pitch of 77 millimeters.
The Versa RAYs themselves were mounted onto large trusses with integral catwalks called "spines". These spines are approximately 11 meters long and hold 148 Versa RAYs in varying lengths, from 750 millimeters to 3 meters.
via: elment labs