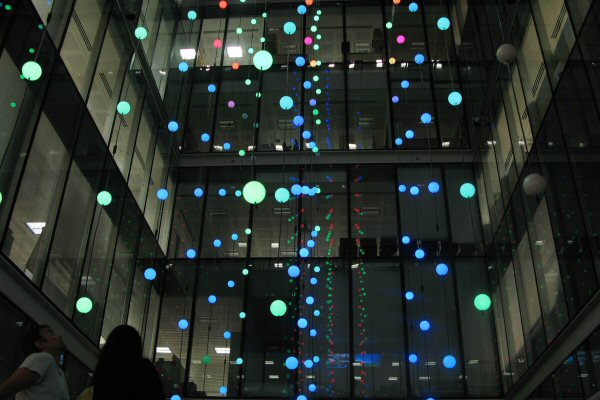 A three-dimensional matrix of 624 globes, each fitted with 24 LEDs, provides a compelling lighting scenario in the atrium of law firm Allen & Overy's office building in Bishops Square, London, which was designed by Foster and Partners.
The concept and design of the "Pixel Cloud" was developed and produced by the Jason Bruges Studio in London, together with Ledon Lighting, the Zumtobel subsidiary, which supplied the unique LED luminaires.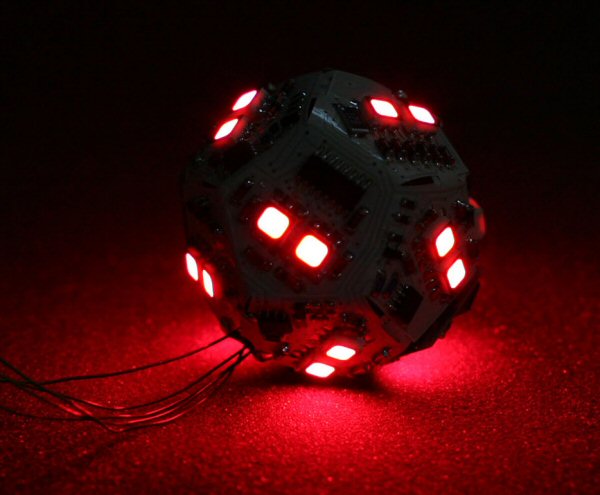 The Pixel Cloud extends over eight floors and 624 milky-white polycarbonate globes, each with a diameter of 120 mm, combine to form a three-dimensional network. Each of eight parallel high-gloss-polished stainless steel sections supports three arms that each carry 26 globes. The globes are fitted with 24 LEDs and are individually controllable. Inside the globe, a dodecahedron (12-sided solid)-shaped flexible circuit board ensures each globe is uniformly illuminated. The system provides 8-bit resolution in the primary colors red, green and blue. Every globe is individually controllable thanks to specially developed software. Real-time color and light updates perpetually change the three-dimensional LED lighting installation's appearance.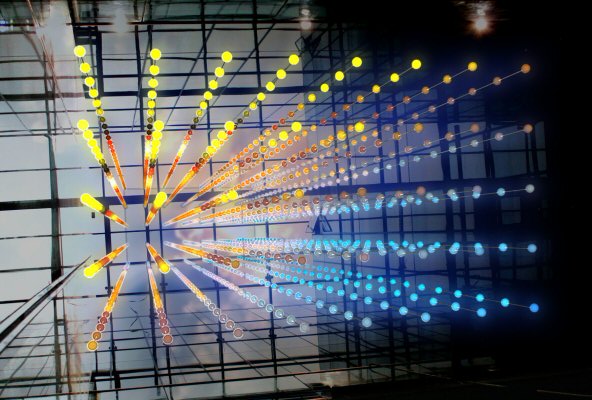 Jason Bruges Studio has adjusted the spacing of the Ledon globe matrix so that it matches the grid of the façade designed by Foster and Partners. The internal glass façade is transformed by changes in color and light. One bar at a time lights up, bringing the outdoor lighting mood indoors, from top to bottom, sharing it with those working in the offices.
via: ledsmagazin.com
This project has been shown at the Media Facades Exhbition Berlin 2008 and was published in the Exhibition Companion (download the Catalogue Pdf – 7 Mb).