Sponsors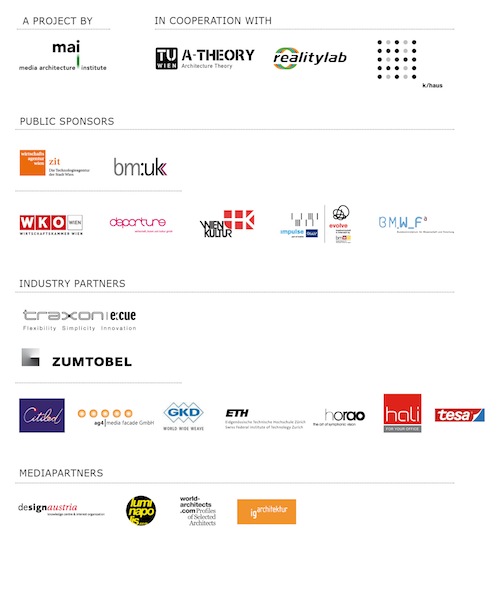 Our Partners:
TRAXON
About Traxon
Traxon Technologies Ltd. is a global leader in LED lighting systems offering sophisticated RGB and White solutions for the architectural and hospitality/retail industries. Together with its lighting control brand "e:cue", Traxon provides its customers full turnkey solutions, reaching from the cutting-edge LED lighting systems to the sophisticated large scale control solutions. In March 2009, Traxon Technologies entered into a joint venture partnership with OSRAM, strengthening its position in the market by combining know-how in technology and building on synergies with OSRAM's global presence. With over 3000 worldwide installations Traxon covers various market segments and has the knowledge and experience to improve and illuminate environments of various size and complexity.
e:cue
About e:cue lighting control
e:cue lighting control develops state-of-the-art control and automation solutions, and works with lighting professionals and partners around the world to deliver dynamic lighting experiences. An industry leader with anintegrated software and hardware portfolio, e:cue provides reliable control solutions for any dynamic lightingproject.
e:cue, as part of "Traxon Technologies – An OSRAM Company", is headquartered in Paderborn, Germany with regional offices in Europe, North America, South America, Asia and the Middle East. Distribution and support is managed through e:cue's extensive worldwide partner network.
ZUMTOBEL
We want to use light to create worlds of experience, make work easier and improve
communications and safety while remaining fully aware of our responsibility to the
environment.
Zumtobel is the internationally leading supplier of integral lighting solutions for a wide variety of applications in professional interior lighting. We provide unique customer benefit by integrating technology, design, emotion and energy efficiency. Under the Humanergy Balance concept, we combine the best possible ergonomic lighting quality for people's well-being with the responsible use of energy resources.
CITILED
Citiled is a French company whose founders come from the LED video industry and have more than 18 years of experience with LED technology. Headquartered in Paris, Citiled also has offices in Dubai, Abu Dhabi, Beirut and Riyadh. With a team of 25 highly qualified designers, engineers and technicians, Citiled ensures the most cutting-edge and qualitative customized LED Lighting and Video Systems for an optimal integration into the architecture. Citiled specializes in the design, engineering, supply and installation of LED MediaFacade for architectural applications. The LED light becomes a new architectural material and allows infinite possibilities for building facades creativity and animation. Citiled study each project with a unique approach and creates custom-made systems that allow greater integration into the architecture. From concept design to final handover, our team coordinates the integration into architecture of video and dynamic lighting managed altogether by a single system. Citiled's expertise helps maximize the return for the developer by delivering state of the art architectural projects.
ag4 media facade GmbH
Simply Mediatecture
ag4 mediatecture company®, Cologne, Germany has realized projects merging architecture, media and design since 1991. As a prime contractor, ag4 is responsible for the complete conceptual, design, construction and technical development, production and realization of projects in the areas of media facades, installations (exhibitions, scenography) and technical systems. ag4 has been a defining voice in the discourse involving the concept of mediatecture in recent years. ag4 built the world's first transparent media facade at the headquarters of T-Mobile in Bonn, Germany.
Since 2005, ag4 media facade GmbH has become responsible for the area of media facades, together with GKD – Gebr. Kufferath AG the systems Illumesh® and Mediamesh® has been developed. ag4 received several awards but also the highest award in the area of design: the Design Award of the Federal Republic of Germany 2009. ag4 has also developed a generic media display system for media facades, named Interactive Media Pool Platform or IMPP® for short.
GKD – Gebr. Kufferath AG
Creative inspiration and technical innovation
Woven metallic architectural and design fabrics of the brand CreativeWEAVE provide virtually unlimited scope for industrial architectural visions. A combination of state-of-the-art weaving technology and cross-sector problem-solving competence makes GKD – Gebr. Kufferath AG the world's leading manufacturer of innovative meshes for architectural and design projects. A wide range of materials and technologies forms a fascinating portfolio of means of expression for both functionally and aesthetically outstanding architecture. GKD developed in a close cooperative development with ag4 media façade GmbH the two award-winning medialized stainless steel mesh systems – Illumesh® and Mediamesh®. With six production facilities, including its headquarters in Germany and others in the USA, the United Kingdom, Spain, South Africa and China, as well as branches in Dubai and Qatar and agents around the world, GKD is always close to the market and ensures that the high level of quality is maintained globally.
ETH und HORAO
The Swiss Federal Institute of Technology (ETH Zurich) was founded in 1855 as a university dedicated to technology and natural sciences. Today ETH Zurich has more than 15,000 students from approximately 80 countries, 3,400 of whom are doctoral candidates. ETH Zurich consists of 16 departments to date offering 23 Bachelor's degree and 39 Master's degree programs. ETH Zurich regularly appears at the top of international rankings as one of the best universities in the world. 21 Nobel Laureates have studied, taught or conducted research at ETH Zurich, underlining the excellent reputation of the institute.

Transferring its knowledge to the private sector and society at large is one of ETH Zurich's primary concerns. It has succeeded in this, as borne out by the 80 new patent applications each year and the 195 spin-off companies that were created out of the institute between 1996 and 2009.
Beyond transferring knowledge to the private sector the university is pursuing a new kind of partnership aiming at creating know-how in joint effort with the private sector for shared use. A recent collaboration of that kind was established with the Walt Disney Corporation in April 2010 in the form of Disney Research Zurich. DRZ is developing new technologies for all areas of the Walt Disney Corporation with its 130'000 employees covering television, games, theme parks and merchandising.
Horao GmbH is an ETH spin-off company focusing on the development and deployment of real 3D imaging solutions covering hardware and software development. Horao GmbH is the exclusive licensee of ETH Zurich's know-how in this field of research for which a patent has been filed internationally. Horao's main focus lies in developing novel solutions allowing to address individual voxels (volumetric pixels) of any kind in space and to display any kind of content in a physical three-dimensional imaging space. The NOVA installation at Zurich central station is so far the largest interactive installation (25'000 voxels) of this kind serving as the main tool to test and deploy new 3d imaging applications which are developed in close collaboration with ETH Zurich. New means of interactivity are explored in show and exhibition contexts using a small mobile NOVA system consisting of 1'000 voxels offering an immediate experience to a broad variety of users.