The documentation of our Media Facades Exhibition Berlin 2008 is now available.
The Exhibition takes place at Deutsches Architektur Zentrum (German Center for Architecture)
October 16 – December 12 2008 and was curated by Gernot Tscherteu
have a look at
Videos
Photos
Exhibition Companion (Catalogue)
see
photos in bigger size
/ ©
wolfleeb.com
Download the MEDIA FACADES EXHIBITION COMPANION (7 mb) including all exhibited projects and an extensive introductory text by the curator Gernot Tscherteu about MEDIA FACADES: FUNDAMENTAL TERMS AND CONCEPTS.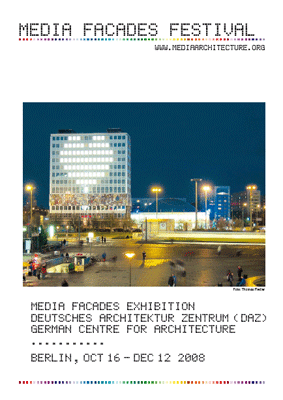 for more info [click here].