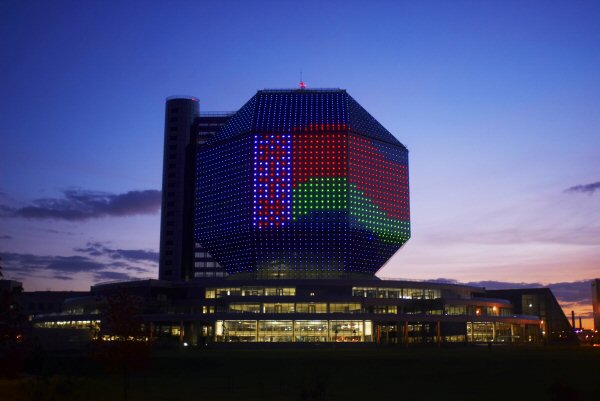 The National Library of Belarus, an architectural diamond, is lit at night in stunning fashion by 4646 color-changing RGB LED fixtures.
In 2006, Minsk received a new architectural symbol – a brand new building to house the National Library of Belarus. The twenty-three storey library is designed in the form of a rhombicuboctahedron (diamond) and symbolizes the enormous value of knowledge that mankind has stored in books.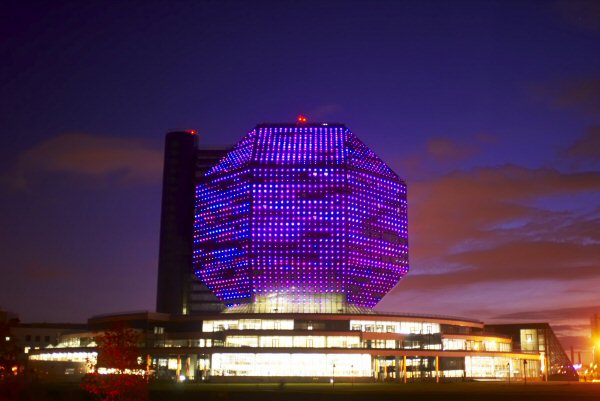 "The authors suggested hiding the light sources behind the glass to create an illusion of a giant color display," continues Kramarenko. "A total of 4646 color-changing LED fixtures were installed all around the building, effectively creating a monitor with 25×25 meter sides and 62 meters in diameter.
"As a result, spectators are able to observe a fantastic show with incredible dynamic plots from hundreds of meters away. It is an extraordinary creative venue for lighting designers."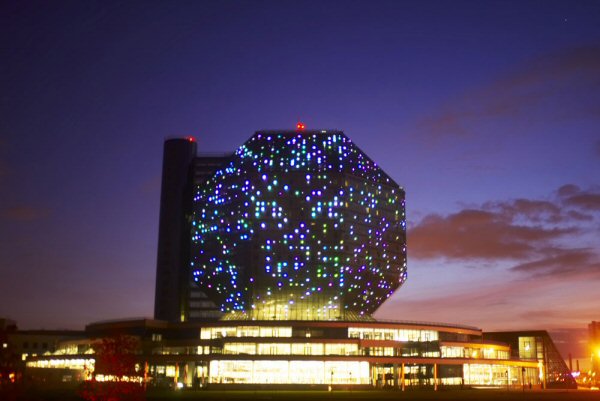 The entire color-changing system was designed and produced by Walter Industries (Minsk, Belarus), a 100% subsidiary of a Canadian lighting manufacturer GVA Lighting, Inc. The system consists of 4646 custom-made RGB light fixtures (STAR), 1349 controllers, 54 splitters, one channel splitter RS485-1/8, one converter USB/RS485-1 and one personal computer. Protocol RS485 was chosen for maximal reliability of the system.
via: gvalighting.com , walterindustries.com This project has been shown at the Media Facades Exhbition Berlin 2008 and was published in the Exhibition Companion (download the Catalogue Pdf – 7 Mb).