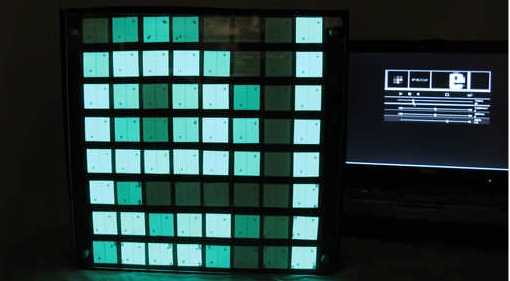 At a time when artists misuse image, Pixy came out of the need to overcome already existing video displays. Pixy is an artistic process that allows materialising the image within a number of independent physical pixels. Pixy displays a low resolution image one can manipulate and physically distort; each pixel of the image is an autonomous physical element made out of electroluminescent paper, it can be moved. The Pixy's structure is not limited to 2 dimensions, it can be placed on a volume and become an object with an interactive potential. The matrix keeping the same resolution can change its physical form.
Pixy is a production of the French Canadian collective Experientiae Electricae. It is a co-production between Videographe (Montreal) and ARCADI (France) and parter Nanolight. Banff new Media is also going to be participant next spring.


Pixy is a low resolution display. It transforms the pixel in a physical object to the service of a modular space. The chosen format accentuates the aesthetic of the sole movement within the image spatially valorized.
Pixy can be placed on any kind of support and take a form adapted to it's content. Pixy being a volume lets us manipulate space to the benefit of images, physical space disappearing to be replaced by chosen videos. Placed at a wall and floor angle, it hides the room behind a moving image creating an open hole within the fixed wall of the architectural space, this gap is filled by images of life. In the middle of urban space there would be a breach towards an outer world full of life, is it an intrusion an invasion…
via: pixy.ca
This project has been shown at the Media Facades Exhbition Berlin 2008 and was published in the Exhibition Companion (download the Catalogue Pdf – 7 Mb).