Stereopublic is a both an app and an online map that let the people of some cities geo-tag quiet places in their surroundings. The project is a collaborative effort that encourages the people to navigate their cities and consciously enjoy the sound scape. The goal is to create world-wide database that lets the people find relaxing places in the city.
Our vision plays a predominant role in the way we experience the world and many environments are focused on the visual aspects of things. Stereopublic makes us aware of the sound scape of our cities and how a quiet place can also provide a great pleasure for our senses. In a way, stereopublic creates a new sort of citizen, an audio flâneur, someone who wanders around looking for those places that are not only pleasurable for our eyes but also for our ears.
The stereopublic map of London.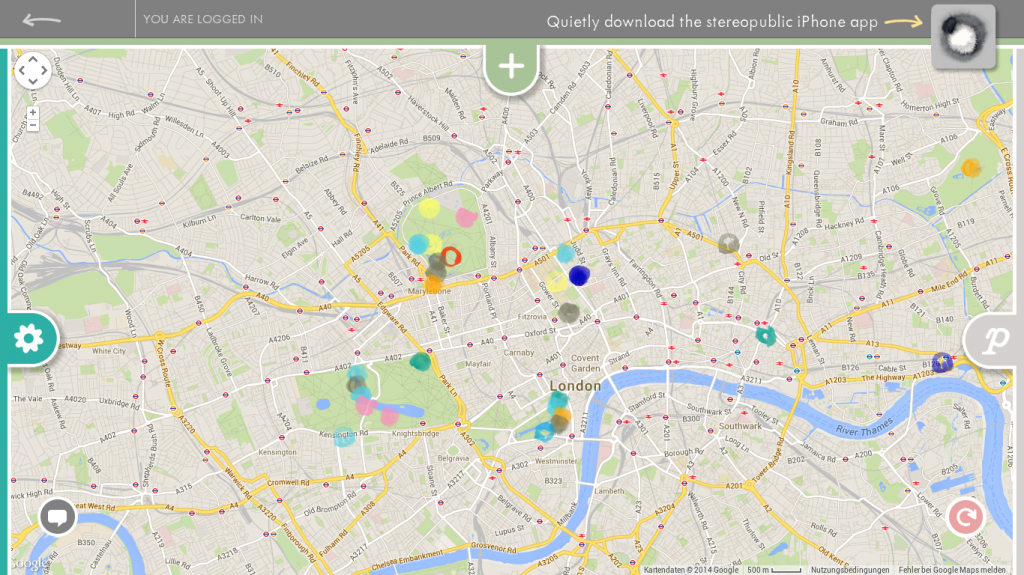 If you want to become part of the hunt for quiet places you can download the stereopublic app for free and start wandering around your city. Once you find a new or your favorite quiet place, you can create a geo-tagged entry for it in the map and give it a color according to your current mood. If you really enjoy that moment you can take a 30 seconds long record and upload it, so that the whole world can have a bit of your quietness.
The length of the recordings require a particular pace, as you need to expend 30 seconds in the place that you want to record. Half a minute can be short for many, but in a busy city it can be a lot of time, so taking part in the project demands also a certain state of mind. Some of the recordings are enhanced with compositions made by Jason Sweeney, the author of the project.
Stereopublic won a City 2.0 TED Prize award and was also supported by the Australian Government through the Australia Council, its arts funding & advisory body, the Government of South Australia through Arts SA, Adelaide City Council.
Stereopublic credits
Video:
Jason Sweeney
Devised, directed and composed by Jason Sweeney
Creative Producer: Martin Potter
Interactive Producer: Nick Crowther
Designer: Amy Milhinch
Design Studio: Freerange Future and the team of:
Yuri Tománek, David Walker, Deanna Daminato,
Lisa Iacopetta, Abdul Rauf, Minka Park.
Architectural Consultant: Dale Wright