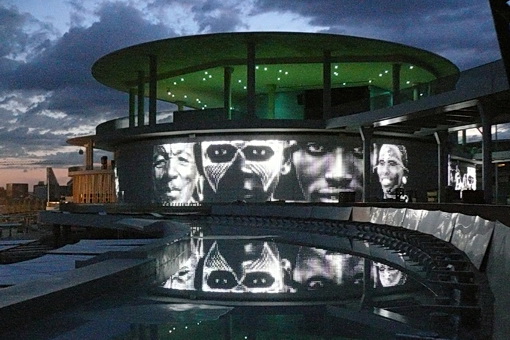 "Water and sustainability" is the motto of this year's international world exhibition held from 14 June to 14 September in Zaragoza, Northern Spain. In 140 pavilions, approximately 100 nations are presenting solutions for the responsible use of the precious resource. Ledon's contribution is the visionary illuminated façade "Wall of Africa", an impressive example of the variable use of light-emitting diodes.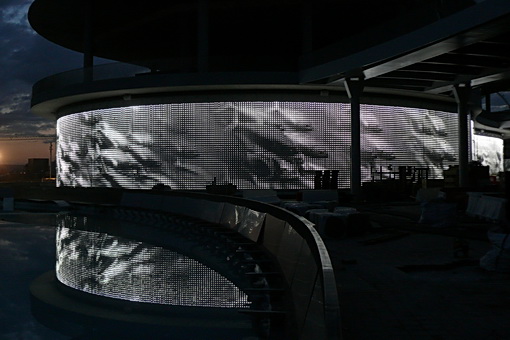 Light as a medium of communication
In compliance with the world exhibition's objective to promote and continuously develop innovative technologies on a sustainable basis, Ledon created a media façade spanning more than 1,500 square metres. In collaboration with the exhibition stand designers and builders Nüssli and architects from Atelier Brückner, a concept was devised which incorporates more than 220,000 LEDs and is intended to visualise the theme of the Expo and bring it to life.
As each pixel can be individually addressed, a wide variety of light shows and videos with seamless transitions can be realised. In addition, arrays of semi-transparent plastic squares flexibly arranged on the façade flutter in the wind, reminiscent of moving water. While by day African landscapes are created across the façade, by night climatic events such as thunderstorm clouds and impressions of African people and animals are shown on the video wall.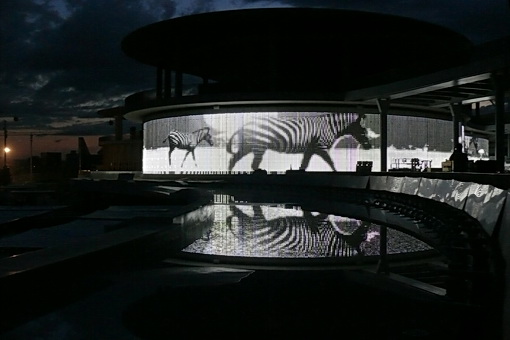 via: ledonlighting.com, atelier-brueckner
This project has been shown at the Media Facades Exhbition Berlin 2008 and was published in the Exhibition Companion (download the Catalogue Pdf – 7 Mb).