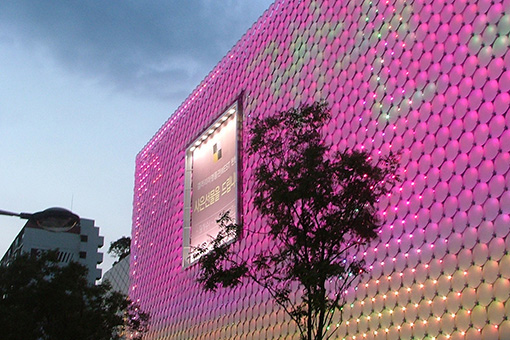 © Arup
Galleria Department Store, Seoul, by UN Studio
Light Design by Rogier van der Heide, Arup Lighting
[Deutsche Version siehe weiter unten]
Media Facade Exhibition
October 16 – December 12 2008
Tue – Fri 12 am – 7 pm, Sat + Sun 2 pm-7 pm
Opening Oct 16, 2008, 8 pm
Free entry.
Venue: Deutsches Architektur Zentrum, Köpenicker Str. 48/49, 10179 Berlin-Mitte
Media facades create utterly new connections between digital space on the one hand and architecture and urban space on the other hand. Never before was there an interface between the physical and the digital world, which was public to such an extent, that it appeals not only to individual users, as in the case of a personal computer, but also to whole groups or even to a whole urban population and that furthermore also allows to "reply", i.e. to interact with a facade or to design its content. In this case, a powerful potential for design and effectivity is created, involving a range of chances and risks that are difficult to estimate and that require thorough discussion. The producers and the users of media facades equally face a range of challenges, and it will need time for fully differentiated opinions and positions to evolve from the discourse which is just taking shape.
Projects include the Galleria Store in Seoul by UN Studio and Arup Lighting, Centro de Creación Contemporánea de Córdoba by realities united and the Allianz Arena in Munich by Herzog & de Meuron. In most cases of outstanding media facades, technology is an integral part of the project and it is not possible to say where the art work ends and the technical design begins. Therefore visitor will experience the full impact of the projects through facade components, models, material samples and video presentations.
Take a look at the exhibited projects!
Read the introductory text on "Media Facades: Fundamental terms and concepts"!
Exhibition Director
Gernot Tscherteu, Mediaarchitecture Group, Vienna
exhibition(at)mediaarchitecture.org
Exhibition Main Sponsor:

Exhibition Sponsors:

Medienfassaden Ausstellung
16. Oktober – 12. Dezember 2008
Di bis Fr 12-19 Uhr, Sa + So 14-19 Uhr.
Eröffnung am 16. 10. 2008, 20:00 Uhr
Der Eintritt ist frei.
Ort: Deutsches Architektur Zentrum, Köpenicker Str. 48/49, 10179 Berlin-Mitte
Medienfassaden schaffen völlig neuartige Berührungspunkte zwischen digitalen Räumen einerseits und Architektur und städtischen Räumen andererseits. Noch nie war eine Schnittstelle zwischen der physischen und der digitalen Welt so öffentlich, dass sie nicht nur wie beim PC einzelne Nutzer anspricht, sondern ganze Gruppen und teilweise sogar eine ganze Stadtbevölkerung und auch Möglichkeiten vorsieht "zurückzusprechen", also mit dem Inhalt einer Fassade zu interagieren bzw. ihn selbst zu gestalten. Es entsteht damit ein mächtiges Potential an Gestaltungs- und Wirkungsmöglichkeiten, mit einer Reihe von Chancen und Risiken, die wir noch nicht richtig abschätzen können und die einer intensiven Auseinandersetzung bedürfen. Sowohl die Produzenten als auch die Konsumenten von Medienfassaden stehen vor einer Reihe von Herausforderungen und es wird wohl noch einige Zeit dauern bis es in dem gerade entstehenden Diskurs zu ausdifferenzierten Meinungen und Positionen kommt.
Unter den Projekten befindet sich "Galleria Store in Seoul" von UN Studio und Arup Lighting, "Centro de Creación Contemporánea de Córdoba" von realities united und die "Allianz Arena in Munich" und Herzog & de Meuron. Bei den meisten Beispielen herausragender Medienfassaden ist die Technologie ein integraler Projektbestandteil und die künstlerische untrennbar mit der technischen Leistung verbunden. Deshalb werden den Besucher die Projekte auch anhand von Fassadenkomponenten, Modellen, Materialmustern und Video Präsentationen näher gebracht.
Hier finden Sie die ausgestellten Projekte!
Hier finden sie einen Einführungstext über "Media Facades: Medienfassaden: Grundbegriffe und Merkmale"!
Ausstellungsdirektor:
Gernot Tscherteu, Mediaarchitecture Group, Wien
exhibition(at)mediaarchitecture.org