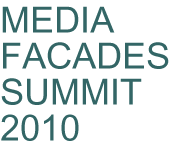 Speakers Biographies and Abstracts
Registration (free but required)
Download Media Facades Catalogue
---
Sorry, we are booked out and seats will only be available iif people who already registered will not appear.
Media Facades Summit 2010
Top-creatives and leading experts in the field of media-facades present different approaches to design and their most important projects. Event is part of Lumninale 2010 parallel to Light+Building in Frankfurt.
April 12th, 2010
Sparda Bank,
Osloer Straße 2,
60327 Frankfurt am Main
open in google maps
Start: 4 p.m. (we open at 3  p.m.)
End: 8 p.m.
Free admission
Organizer:
Dr. Gernot Tscherteu
Media Architecture Institute
mediaarchitecture.org
Registration Required
Program:
16:00 – 16:10
Welcome
16:10 – 16:30
Introduction by Gernot Tscherteu / Media Architecture Institute
16:30 – 17:50
Presentations 1st Session:
Astrid Piber / UNstudio
Rogier van der Heide / Philips
Christoph Kronhagel / kronhagel – mediatecture
17:50 – 18:10
Break
18:10 – 19:30
Presentations 2nd session:
Jan/Tim Edler / Realities:United
Andreas Schulz / Licht Kunst Licht AG
Marc Largent / Magic Monkey
19:30 – 20:00
Panel discussion with all speakers
Speakers biographies and abstracts
Through significant progress in LED engineering, the past years have witnessed an increasing development of media-facades and media-architecture, which merge buildings and light spots. Buildings thereby increasingly function as media-screens or turn in to animated architecture. Most recent examples in this field include the Bayer headquarter in Leverkusen, the new Ars Electronica Center in Linz or Yasni Hotel in Dubai. Due to the decrease in the price for LEDS and their constant increase in luminosity, one can expect in the next years further progress in this process of fusion, together with its integration into contemporary architecture, but also heated discussions about the usefulness or uselessness of these developments. The Media Architecture Institute aims at fostering discussion about this topic and directing it on to the right tracks. Since 2006 we are running mediaarchitecture.org to collect examples of such projects and analyse their technical background, as well as their creative potential, but also possible risks for the cityscape.
About Media Facades Summit 2010
After the Media Architecture Conference London 2007 and the Mediafacades Exhibition Berlin 2008, the Media Facades Summit 2010 will again gather the central players in this new field. Creative minds and top experts for media-facades will present different approaches to design and their most important projects.
The lectures and following panel discussions will deal with the following issues:
How do media-facades make architecture change?
Which part does technology (for example LED technology) play in the design process?
What effects do media-facades have on the perception of a city?
How can residents become involved?
How can benefits and risks of media-facades be evaluated?
Are we wasting energy with this sort of technology?
In which directions could this topic be developed? Are the visions of "Minority Report" or "Blade Runner" being realized or even excelled?
The event will be held in English.
Download Media Facades Catalogue.
Thanks to Helmut Bien (Projektbüro Luminale) and Sparda Bank.
Send questions to ask@mediaarchitecture.org
Registration Required
---
Speakers' Biographies and Abstracts
Astrid Piber, Partner/Senior Architect at UNStudio
Astrid Piber is a Partner of UNStudio with more than ten years experience as a design architect on urban projects and international competitions. The realized projects Galleria Luxury Hall West (Seoul, 2003-2004) and Star Place Luxury Shopping Plaza, Kaohsiung (2006-2008) initiated her interest and further involvement with mixed use and retail projects, such as the Galleria Cheonan (2008-2010) and Raffles City Hangzhou (2008-2012). She became a member of UNStudio's Management Team in 2006 and a Partner of UNStudio in 2008.
Abstract: All Aglow
Throughout Asia media facades are booming. Despite a global recession, urban leisure and retail developments are constantly emerging and existing buildings are re-inventing their appearance. The latest media screens have become the ornament of 21st century commercial architecture. The very latest lighting technology encourages the media facades to out glow the buildings themselves – at least, as long as it is dark. But in an urban setting packed with screens and displays, how can a media facade still achieve visual prominence?
For three of UNStudio's projects, designed and realized between 2003 and 2010, the challenge to create an outstanding identity which represented each development's brand was a prerequisite. Following the chronological evolution of the different design processes of these projects, the duality of day and night, of real and virtual and of physical substance and digital content has been the playground where optical illusion and lighting effects out glow each other.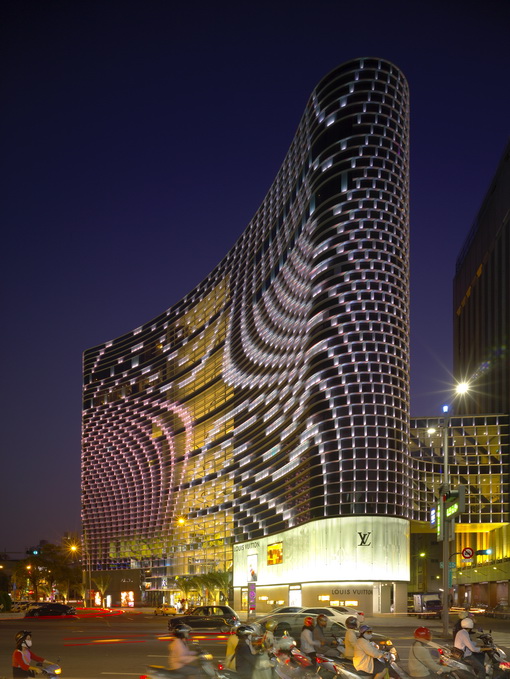 Project: Star Place, Kaohsiung, Taiwan
Photo credit: Christian Richters
Rogier van der Heide, Chief Design Officer at Philips
Rogier is an architectural lighting designer and Chief Design Officer at Philips. He has been responsible for innovative, creative and well-executed projects all over the world. Being a recipient of the prestigious IALD Radiance Award, the Lighting Designer of the Year Award, an Edison Award of Excellence, two Edison Awards of Merit, three International Illumination Design Awards, a Royal Institute of British Architecture Award (together with Zaha Hadid) as well as a British Lighting Design Award, Rogier's work is widely recognised as leading in the field of creative and independent lighting design. Many architects work together with Rogier, who has teamed with Renzo Piano, Ben van Berkel, Hani Rashid, Zaha Hadid, Michael Graves, Cesar Pelli, Rob Krier and many others. Besides his work for Arup, Rogier has delivered many lectures, presentations and seminars about design, architectural lighting and innovations. At several international conferences Rogier has talked about media and lighting design in the cityscape.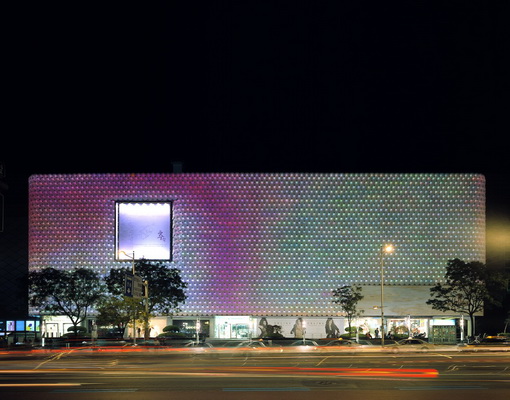 Project: Galleria West, Korea
Photo credit: Christian Richters
Christoph Kronhagel, Kronhagel Mediatektur
Born in 1958, studied architecture at the RWTH University of Archen from 1980-1988. During his studies, he developed an interdisciplinary way of working employing all possibilities of visual design. In 1991, Christoph Kronhagel together with producer, Harald Singer, established the company, ag4 consortium, which grew into an interdisciplinary company creating media architectural projects that enables companies like BMW, Aventis and Serono to communicate their identity in public space. In 2004, ag4 company developed the LED application that installed the first transparent media façade for the T-Mobile company in Bonn. In the continuous development of numerous media facades, Kronhagel pioneered the creative integration of media technique and media design content, combining commerce and communication with art, in public space. In 2009 he founded Kronhagel Mediatektur.
Abstract: Codes and Notes
After having devoted myself for many years to the task of shaping media technology to be a component of architecture, I am currently concentrating on the challenges posed by content design.
It seems to me that hitherto most media facade projects have arisen from a "nice to have" reflex. The motive of the person commissioning the project consists then in producing something decorative with an innovative appearance or in raising the profile of architecture. But how can the media facade bring about a genuine achievement that the commissioner can recognize and reward? Such an achievement can only be attained if a media facade is placed in the context of a content-orientated communicative task.
A direct monetary back flow in its usual outward form, switching on advertising in a public space, seems problematic, because the dominance of commercial incentives transmits to the spatial relationships of a showcase an aggressiveness unfolding in a public space which, in general, meets with disapproval, both aesthetic and psychological. What we are after is a thematic arrangement, the hybrid aspects that urban planning and regional identity can combine with the construction of communicative strategies.
Architecture has always been a codification of societal relationships. Architectonic representation articulates the being and endeavours of social systems. But while a classical facade is of a largely fixed nature, a media facade can constantly arrange its characteristics in line with current social norms. This constant change in the character of a facade can nowadays be controlled interactively. Bazon Brock calls this type of interaction the "principle of mimic" and the man in the street can now communicate with the front of the building.
If the process content is organised in real time or even computer generated, then it can be synchronised with other media as, for example, the Internet. As ordinary people have more and more direct contact with the Internet, a system of spontaneous communication can be set up that can be strategically combined with the communicative interests of the commissioning agent. This seems to me to offer the perspective of freeing media showcases from just the "nice to have" reflex and nothing more.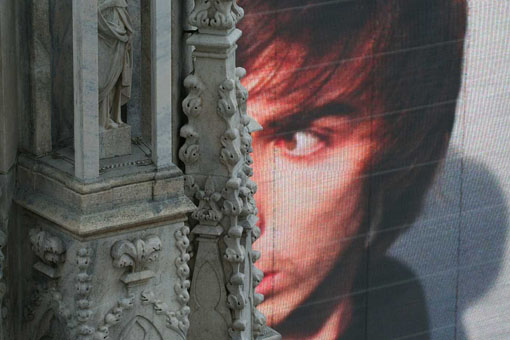 Project: Mediamesh at the Piazza Duomo – Milano
Photo credit: ag4-Gkd
Jan Edler, realities:united
Jan Edler studied architecture at the Technische Universität Aachen and at London's Bartlett School of Architecture. Tim Edler studied computer science and architecture at Technische Universität Berlin. From 2005 until 2008 he held a visiting professorship at Bremen's University of the Arts. In 2003 the brother taught together at the Pasadena Art Center College of Design. In 2000 they found realities:united, a Berlin based studio for art and architecture.
Abstract
Based on selection of projects from their studio realities:united the Edlers will explore architecture that has started to change from static to dance, and argue why architects should stay on top in regards to the development of medial enhanced architectures…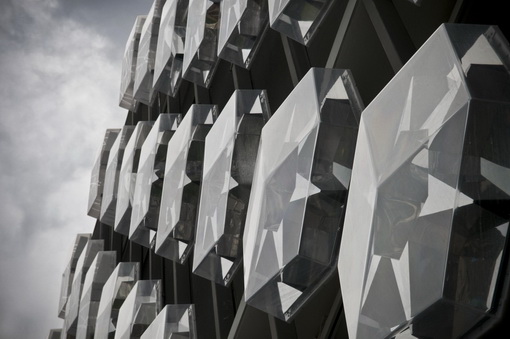 Project: crystal-mesh-singapore-2010
Photo credit: realities:united
Andreas Schulz, Licht Kunst Licht AG
Andreas Schulz is the CEO of Licht Kunst Licht AG in Germany. Having graduated in electrical engineering in Cologne and lighting design in Ilmenau he has accumulated a wealth of experience at architectural and event lighting though his work of nearly 20 years. During this time he has worked for a German broadcasting company, for a lighting design office in Cologne and has founded the lighting design venture Licht Kunst Licht with branches in Bonn and Berlin in 1992. Since then, the office has participated in over 300 projects in Germany and various foreign countries. It looks upon more than 100 publications and has received more than a dozen internationally acknowledged lighting design awards. Adding to his professional practice Andreas Schulz has been involved in lighting education as a guest lecturer in Düsseldorf and is a founding professor for lighting design at the University for Science and Art of Hildesheim.
Abstract
Be it through projections or video displays or light installations – more and more enterprises use their company buildings to set themselves apart and to achieve as much attention as possible in times of continuous visual overstimulation. Media facades have increasingly established themselves as eye-catchers in urban environments. Not always they meet the public`s approval, especially when ostensible and bold lighting effects dominate the perception of the urban surroundings. For Licht Kunst Licht it is a challenge to develop a lighting design that subtly enhances the architecture while it is smoothly integrated into the spatial context.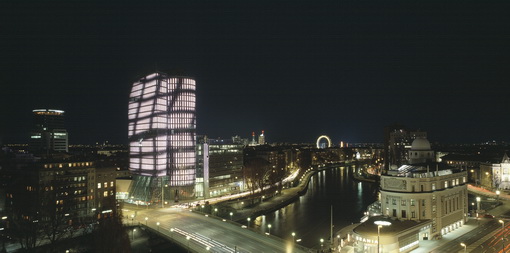 Project: Uniqa Tower, Vienna
Photo credit: Licht Kunst Licht AG
Marc Largent, Magic Monkey
Marc Largent, Managing Director and Co-Founder of Magic Monkey with Daphné Delbeke, is a leader and innovator in monumental communication displays a.k.a. media facades. Marc has always been motivated by the creation of new media spaces to touch and surprise audiences to the great benefit of his clients. From early image projections on buildings to fully integrated architectural video displays on 300 meters high-rises, Marc has always pushed the boundaries of traditional media perceptions.
Abstract
Magic Monkey, founded in 1995, is a global innovator in urban communication and operates on a worldwide basis. The company specializes in translating architecture and environments into monumental communication platforms. Magic Monkey projects are often interactive, inviting the public-at-large to participate, and generate true emotional exchanges between brands, architecture and people. Emotion is Magic Monkey's mission. With a focus on creating truly innovative designs and meticulous implementations, Magic Monkey has successfully collaborated with famous architectural firms and prestigious brands.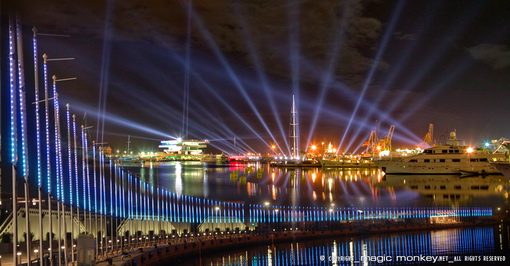 Project: 32nd America's Cup, Valencia Spain
Photo credit: magicmonkey.net
---
Media Facades Summit 2010 (Deutsche Version)
Top-Creatives und führende Experten für Medienfassaden präsentieren ihre Gestaltungsansätze und wichtigsten Projekte. Die Veranstaltung findet im Rahmen der Luminale parallel zur Light+Building in Frankfurt statt.
12. April, 2010,
Sparda Bank,
Osloer Straße 2,
60327 Frankfurt am Main
in google maps öffnen
Beginn: 16.00 (ab 15 Uhr Einlass)
Ende: 20.00
Programm: Dr. Gernot Tscherteu
Veranstalter: Media Architecture Institute
mediaarchitecture.org
Freier Eintritt.
Registrierung Enforderlich
Vortragende:
Astrid Piber / UNstudio, (bestätigt)
Rogier van der Heide / Philips (bestätigt)
Christoph Kronhagel / kronhagel – mediatecture (bestätigt)
Jan Edler / Realities:United (bestätigt)
Andreas Schulz / Lichtkunstlicht (bestätigt)
Marc Largent / Magic Monkey (bestätigt)
Durch signifikante Fortschritte in der LED Technik sind in den letzten Jahren vermehrt Medienfassaden und Medienarchitekturen entstanden, bei denen Gebäude und Lichpunkte miteinander verschmelzen. Gebäude erhalten dadurch eine zusätzliche Funktion als Medienscreens oder werden zu animierter Architektur. Jüngste Beispiele sind das Bayer Headquarter in Leverkusen, das neue Ars Electronica Centers in Linz oder Yasni Hotel in Dubai. Da die Preise für LEDs sinken und ihre Leuchtstärke laufend zunimmt, ist in den nächsten Jahren einerseits damit zu rechnen, dass dieser Verschmelzungsprozess voranschreitet und zu einem fixen Bestandteil zeitgenössischer Architektur wird, dass er andererseits aber auch heftige Diskussionen über Sinn und Unsinn dieser Entwicklung auslösen wird. Das Media Architecture Institute möchte die Diskussionen rund um dieses Thema fördern und in konkrete Bahnen lenken. Auf mediaarchitecture.org sammeln wir seit 2006 Projektbeispiele, analysieren technische Hintergründe, kreatives Potential aber auch mögliche Risiken für Stadtbild und Umwelt.
Über Media Facades Summit 2010
Nach der Media Architecture Conference London 2007 und der Medien Fassaden Ausstellung Berlin 2008 versammeln wir auch beim Media Facades Summit 2010 zentrale Akteure dieses neuen Bereiches. Kreative Köpfe und Topexperten für Medienfassaden präsentieren ihre Gestaltungsansätze und wichtigsten Projekte.
In den Vorträgen sowie in der darauf folgenden Podiumsdiskussion werden folgende Fragen erörtert.
Wie verändert sich Architektur durch Medienfassaden?
Welche Rolle spielt die Technologie – z.B. die LED Technologie im Gestaltungsprozess?
Wie wirken sich Medienfassaden auf die Wahrnehmung der Stadt aus?
Wie lassen sich Bewohner in Bespielungskonzepte einbeziehen?
Wie könnte man Nutzen und Risiken von Medienfassaden bewerten?
Verschwenden wir mit dieser Technologie Energie?
In welche Richtung könnte sich das Thema weiterentwickeln. Werden die Visionen von "Minority Report" oder "Blade Runner" realisiert oder sogar noch übertroffen.
An der Veranstaltung nehmen Astrid Piber von UNstudio, Christoph Kronhagel, Rogier van der Heide und Realities:United teil.
Weitere Vortragende und aktuelle Details werden laufend bekanntgegeben.
Die Veranstaltung wird in Englisch abgehalten.
Download Media Facades Catalogue
Dank an Helmut Bien (Projektbüro Luminale) und Sparda Bank.
Anfragen an ask@mediaarchitecture.org
Registrierung Enforderlich