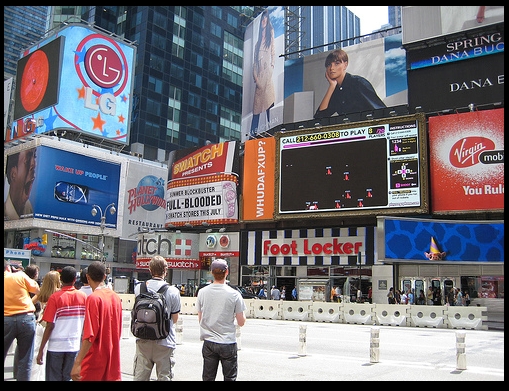 MegaPhone is Phonecall-Controlled, Real-Time, Multi-Player Collaborative Gaming Platform for Big Screens in Public Spaces, but we already said that. What we mean is,

it's a game you control with a phone call.

MegaPhone is NOT a downloadable application that runs on your phone, and it's NOT a wireless network, like Wifi or Bluetooth.
There are two ways to send input to the display: keypad and voice. The keypad can be used much like a video game controller, and the volume and pitch of the phone's microphone can also become input in the game.
MegaPhone updates the game state on a shared screen, and can send custom audio and text messages back to each user. MegaPhone uses this mobile channel back to the caller to close the loop on out of home media advertising.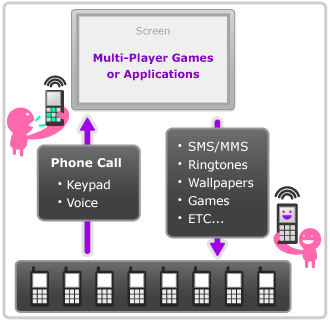 A viewer sees the phone number on screen
They call the number with any phone, and interact using their microphone and keypad
Their mobile carrier forwards us the call
The MegaPhone server answers the call and processes the voice and keypress data
The MegaPhone server sends the data over the internet
The MegaPhone Flash game displays the updated state on the screen
The MegaP
Megaphone mobile content server can send the caller SMS, MMS, or digital files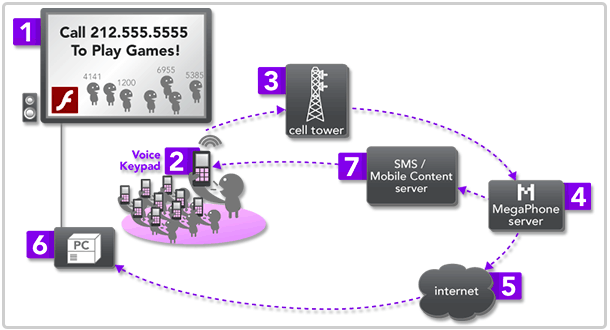 via: playmegaphone.com
This project has been shown at the Media Facades Exhbition Berlin 2008 and was published in the Exhibition Companion (download the Catalogue Pdf – 7 Mb).