Located on the east side of Huangpu River, near the Lujiazuei International Financial District and a striking contrast to the neo-classical buildings along the Bund on the opposite river bank, Shanghai Pearl TV Tower is not only the most remarkable building in Shanghai, but has become the symbolic icon that illuminating the energetic and cultural image of Shanghai City that continuously showcases her beauty to the world.
Shanghai Oriental Pearl TV Tower was built and completed on 1 October, 1994. Though twenty years have come and gone, this iconic Tower has seen an influx of thousands and upon thousands of visitors from all over the world, coming together to embrace the beauty of this Pearl Tower.
As planned, the outdoor lighting system has been re-designed and renovated every decade in order to usher in a new era that shows the best of her beauty to the world. This year, 2014, marks Phase 2 of the renovation, which stands for the most advanced outdoor lighting design and technology. It is expected to attain the world-class level as well as showing the culture, technology, innovation, romance and irresistible charm that surprises all visitors all over the world not only to behold but to gain an amazing experience. StrongLED, as the responsible company for the execution of phase 2 of the project, has achieved an outstanding work.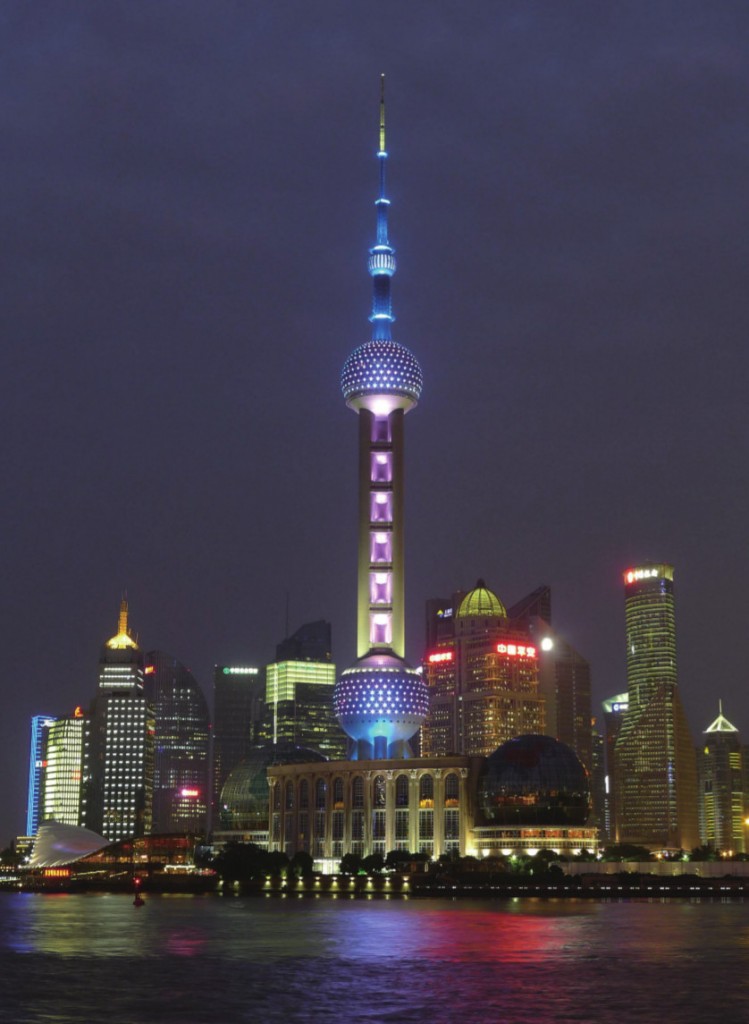 Technical details
There are 9 types of luminaries involved in this project including LED RGB linear lights, LED RGBW flood lights, LED strobe lights, Space Capsule cross-shape lights, LED node pixel lights on the facades of the 2 Spheres of the Tower, halogen lights, laser lights, 7000W search lights, and the LED display screen on the steps of the front square by the entrance. These 9 types of luminaries have different control methods and light effects, but are expected to be coordinated and controlled under one control system with one master controller.
The 9 types of outdoor lighting luminaries can be classified into 2 main categories of control methods. The display screen on the steps in the front square uses serial shift drive control method, while the rest are controlled under DMX512 mode. For the luminaries of DMX512 control mode, LED RGB linear light needs 3 channels for R, G, B, respectively. RGBW flood light requires 4 channels of R, G, B, W, respectively. LED strobe light requires 2 channels for the brightness and refresh rate. The Space Capsule cross-shape light requires 5 channels for R, G, B, refresh rate and brightness. LED node pixel lights on the facades of the 2 Spheres of the Tower eacj requires 6 channels for R, G, B, W, refresh rate and brightness. As for the 7,000W Projector light, it requires 16 channels for color, brightness, on/off, projection angles in X & Y axis directions and projection angle changing speed…etc.
All the factors mentioned above need to be coordinated and all luminaries and signals should be placed into one integrated control system. Different from all other lighting equipment and luminaries providers, StrongLED has its own range of proprietary products and technology that not only includes 3 main series of luminaries, City Lite, i-City Vision, and City Pearl, but also its control system including VersaLink lighting control system and StrongPlayer master control software. StrongLED comprehensively holds the key capabilities from A (control system) to Z (luminaries design and manufacture). As a result, StrongLED has earned the outstanding capability and proven track record of highly customization of design, development, upgrade, modification of both hardware and software products. That is why StrongLED can always meet and satisfy clients' wide variety of demands.
StrongLED has developed its customized master control software for the project's unique requirement, "Shanghai Oriental Pearl Tower Lighting and Sound Show Control System". This control system can individually sort and arrange the format of data of each type of lights, and transfer the data and output signal according to the installation position and the signal connection conditions. This ensures that all different types of luminaries can receive the right types of signals and fill the expectations of a coordinated and integrated master control.
Credits:
StrongLED