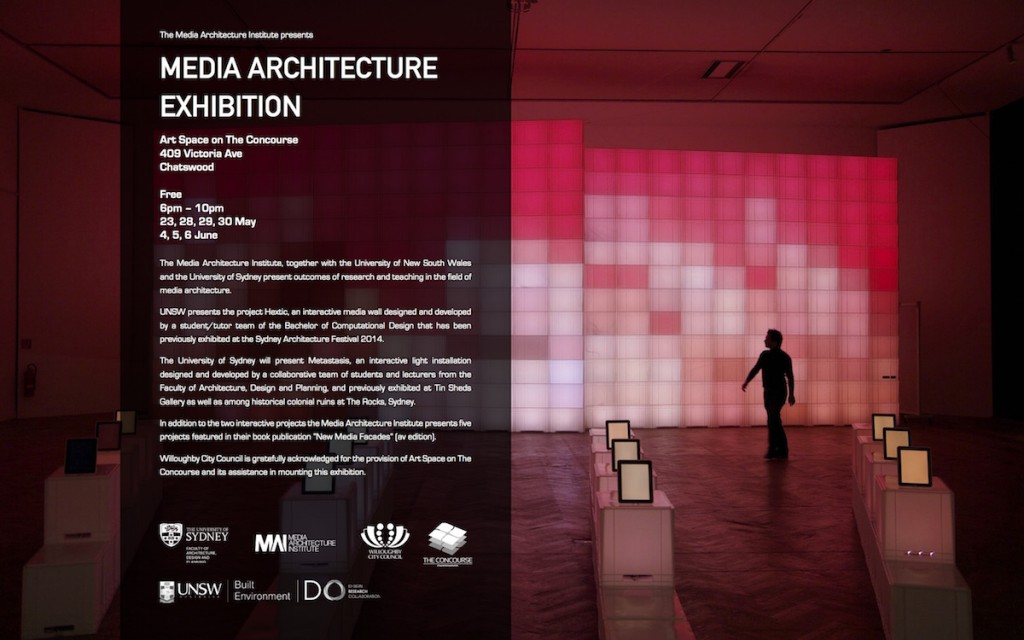 The Media Architecture Institute, together with the University of New South Wales and the University of Sydney present outcomes of research and teaching in the field of media architecture in an exhibition hosted by Art Space on The Concourse, Willoughby City Council, located in Chatswood/Sydney. The exhibition is open 23 May to 6 June, Thursday to Saturday, 6pm to 10pm.
UNSW presents the project Hextic, an interactive media wall designed and developed by a student/tutor team of the Bachelor of Computational Design led by Dr Hank Haeusler, that has been previously exhibited at the Sydney Architecture Festival 2014. The rest of the team were Rebekah Araullo and Eliot Rosenberg, with artists Dominque Heraud, Annisa Rizal, Alexander Lee, Jordon Blanket, Andrew McDonald, Tomislav Livaja, Peter Mitchell and Dara Ten.
The University of Sydney presents Metastasis, an interactive light installation designed and developed by a collaborative team of students and lecturers from the Faculty of Architecture, Design and Planning, and previously exhibited at Tin Sheds Gallery as well as among historical colonial ruins at The Rocks, Sydney. The artists are Luke Hespanhol, Martin Tomitsch, Eduardo Barata and Philipp Peltz (audio).
In addition to the two interactive projects the exhibition includes a poster showcase of five projects featured in the book publication New Media Facades (av edition).
The Concourse will also be home of the next Media Architecture Biennale, taking place 2-4 June 2016.