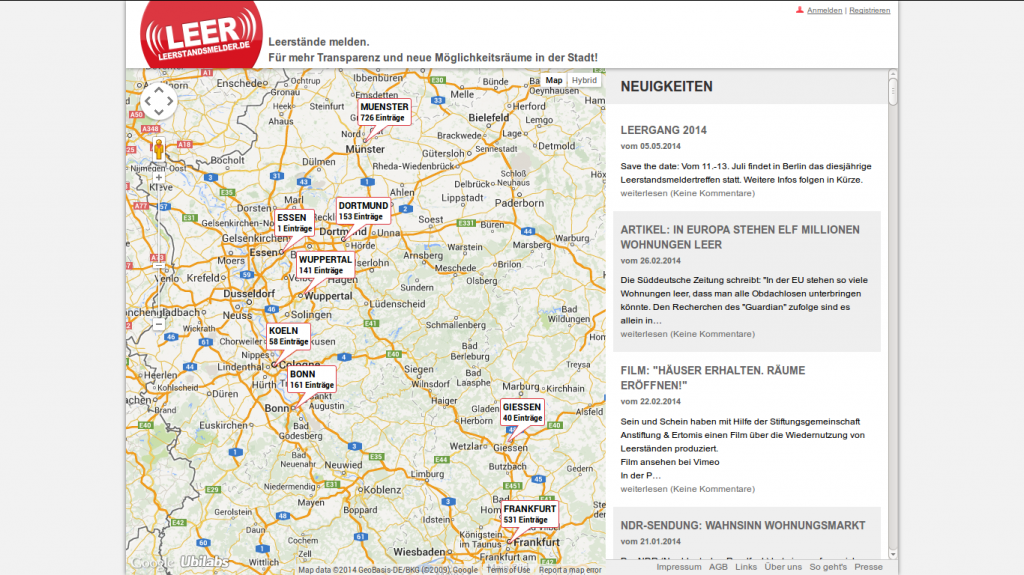 Leerstandmelder
is an online map that allows city inhabitants to report vacant spaces in their surroundings. The map highlights in this way some of the inequalities created in the city by long-term vacant spaces, as such could be inhabited or used by people in need for them. According to a report released by
The guardian
many of the empty spaces in Europe are bought just as investment and some have never been used.
The phenomenon has already reached an alarming scale, as approximately 11 million houses remain vacant in Europe. It doesn't matter if they are old or new, living or industrial spaces, if they are in the centre or the periphery, or if they are public or private. They directly affect people who struggle to find affordable flats and work spaces in their cities.
Regardless of the situation there are no overview or comprehensive data of the situation. Leerstandmelder recognizes this problematic and visualizes it through the online map, creating a user-generated report on the problem. The goal is both to highlight the problem and to create more transparency and possibilities in the city.
Vacant spaces can be directly reported by the users in the vacant spaces map through an uncomplicated process. In this way a collective and open spatial-data-pool is growing, parallel to the official city's information channels. Additionally, the registered users can interchange information and ideas about the vacant buildings that allow them to take concrete actions on the empty spaces.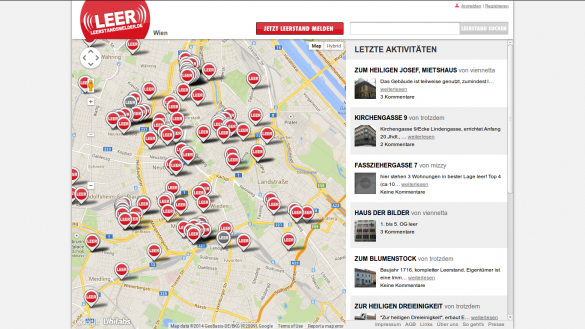 After the launch of the internet site in Hamburg other people expressed their interest of creating vacant spaces maps for other cities. Thus, the internet site of each city is operated by local organizations. Other cities are getting ready to start their own platform. Through the management of the local sites, the organizations obtain donations, public financial support, and expand the network of the project.
The project has also triggered some reactions from land owners and activists. Land owners argue that they are being placed in the pillory. However they still have the freedom to publicly explain why their ownerships remain vacant. Activists think that the map can indirectly help speculators to identify opportunities in the real-state market. This is clearly possible, yet most of the reported properties are already out of the market and in many cases they are empty because they are not any more profitable, while other properties are empty because they have been already overtaken by speculators. Additionally the speculators and real-state agents have other information channels. Leerstandmelder, on the contrary, makes the information publicly available and supports positive actions in the city.
Credits:
Screenshots:
Leerstandmelder.de
Graphic:
Leerstandmelder.de